Hailed as "a first-class ensemble" (Orange County Register) "exuberant and technically dazzling" (Long Beach Gazette) and "one of the best young chamber groups around today" (Philip Setzer, Emerson String Quartet), Trio Céleste has quickly established itself as one of the most dynamic chamber music ensembles in the country.
Current season highlights include national and international recital tours in Los Angeles, New York, San Francisco, Toronto, and Ottawa; the ensemble's debut CD recording at Soka Performing Arts Center with GRAMMY-winning recording engineer Jesse Lewis; and The Beethoven Variation Project, a revolutionary collaborative project featuring commissions from Samuel Adler, Fred Hersch, and Pierre Jalbert among others.
Winners of the prestigious Beverly Hills Auditions in Los Angeles, Trio Céleste is currently Ensemble-in-Residence at the Claire Trevor School of the Arts at the University of California, Irvine where they recently presented the complete piano trio works of Ludwig van Beethoven and the Triple Concerto with the UC Irvine Symphony Orchestra and the Capistrano Conductor's Institute Orchestra. In 2013, the ensemble along with violist Michelle Gasworth, were selected from over five hundred applicants to be Artists-in-Residence at the Grand Canyon National Park where the group concertized and presented master classes throughout the South Rim.
Committed to fostering a love for chamber music in the next generation of performing artists, Trio Céleste directs UC Irvine's Summer Chamber Music Festival and regularly presents masterclasses, educational forums, and outreach events worldwide. They also lead the performance, educational, and marketing divisions of the classical music organization Chamber Music | OC, a nonprofit dedicated to promoting the art of chamber music through performance, education, and community outreach.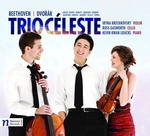 "The US West Coast-based Céleste Trio may have been formed only four years ago, but judging from its first disc it has an important career ahead of it."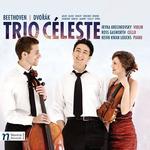 The nucleus of the program on Trio Céleste's self-titled debut release on Navona Records is Constellations, a collection of variations on the well-known and stately opening theme of the second movement from Beethoven's Piano Trio in G Major, Op. 1, No. 2.
The title for Constellations was inspired by the cosmic nature of the project itself; like many unique sets of variations, constellations are beautiful, varied patterns that share both explicit and implicit commonalities. The album presents works from ten renowned composers that bridges the gap between old and modern, revitalizing one of Beethoven's most stunning and memorable themes. The diverse collection represents an extraordinary range of interpretations resulting in one of the most unique contributions to the piano trio repertoire in the last decade.
"When the Trio Céleste performs, they turn music into a living, breathing, vibrant thing... They are the epitome of what chamber musicians should be..."
— Palm Beach Daily News