Internationally acclaimed in both the symphonic and operatic repertoire, Justin Brown is General Music Director of the Badisches Staatstheater Karlsruhe, Germany, and Music Director Laureate of the Alabama Symphony Orchestra in the United States.
Justin Brown discusses his recent successes in Karlsruhe, the upcoming world premiere of "Figaro Gets a Divorce" with the Welsh National Opera, and more in a feature by John Allison.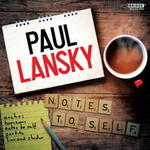 Featuring Arches and Lines and Shadow for Orchestra
Odense Symphony Orchestra
Justin Brown, conductor
Karlsruhe has a distinguished Wagner tradition, and indeed the conductor of Parsifal's premiere, Hermann Levi, was once in charge here. His current succesor as Generalmusikdirektor, Justin Brown, has honed the orchestra to a very high standard without imposing any super-blended smoothness, so the notes of the prelude tugged at each other with real Schmerz. His first act was broad, the second scherzo-like. The muscularity of his interpretation made the Act 3 prelude gripping in its raging emotions, and his pacing was secure… An outstanding achievement.
— Opera Magazine