The music of Spanish-American composer Jorge Muñiz has been performed in Spain, Italy, Germany, France, Australia, Singapore, and throughout the United States. Muñiz is currently Associate Professor of Music – Composition and Theory, at the Ernestine M. Raclin School of the Arts at Indiana University South Bend.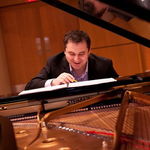 Fuenteovejuna, honoring the 400th anniversary of the classic 17th century play by Lope de Vega, is the first commissioned opera by Opera de Oviedo, currently in its 69th season, scheduled for the opening of the company's 2018-2019 season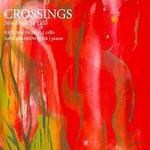 CROSSINGS: New Music for Cello, performed by Kate Dillingham, cellist, and Amir Khosrowpour, pianist, is a collection of contemporary compositions for solo cello and cello and piano. The disc contains Jorge Muniz's Behold the Lamb of God for solo cello in its world premiere recording.
Kate Dillingham is an avid proponent of the music of living composers. Following her New York debut, which featured world premieres of works by Augusta Read Thomas and Pulitzer Prize-winner Jennifer Higdon, the press deemed her "an excellent cellist; dignified, intelligent, and compelling. An adventurous, dedicated champion of contemporary music…an extraordinary performer who displayed musical insight and emotional depth…
Praised by The Los Angeles Times as having "irresistible verve, unpretentious directness, and fingers of steel," pianist and composer Amir Khosrowpour "seeks out what is new and vital and delivers it with passion, considerable drama, and poetry" (NY Concert Review). This includes his involvement in an Allora & Calzadilla exhibition at MoMA in New York City calling for the pianist to stand in a hole cut out of the middle of the piano while playing Beethoven's "Ode to Joy" from the opposite side of the keyboard. In 2012, a collaboration with Turin-based filmmaker and artist Simone Catania, Khosrowpour performed his own composition in a fog-filled art gallery while hanging from the ceiling.
A delightful new work… Muñiz's colorful orchestration of the piece makes exemplary use of all the musicians to create distinct portraits of three cities at night: Chicago, St. Joseph and Miami… the work sparkles with life and joy. [World Premiere of Piano Concerto No. 2, "American Nights"]
— The South Bend Tribune