AFINAT RECORDS is a new boutique record label founded in 2016 as a sister subsidiary to classical music management and public relations firm, A440 Arts Group.
Afinat's mission is really just guided by three little words: simply great music. Afinat is a Catalan word that means "in tune." Afinat's vision is to help gifted artists produce beautiful recordings filled with simply great music, that finds itself in tune with listeners from around the world.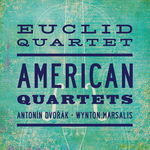 New recording to be released with limited distribution on CD only on April 4, 2017, with advance sales benefitting a new music scholarship initiative led by the Euclid Quartet, the resident faculty quartet at Indiana University South Bend since 2007.
Album to be released for worldwide distribution on October 6, 2017.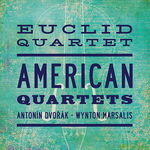 This new recording from the acclaimed Euclid Quartet, ensemble in residence at Indiana University South Bend, IN, contains the beloved "American" String Quartet No. 12 in F Major, Op. 96 (1893) by Antonín Dvořák, and "At the Octoroon Balls" String Quartet No. 1 (1995) by Pulitzer Prize and GRAMMY® Award winning American trumpeter, composer, founder and artistic director of Jazz at Lincoln Center, Wynton Marsalis.