Adam Levin has been praised by renowned American guitarist Eliot Fisk as a "virtuoso guitarist and a true 21st century renaissance man with the élan, intelligence, charm, tenacity and conviction to change the world." Mr. Levin has performed throughout the United States, Europe, and South America. In 2008, Levin was honored as a Fulbright Scholar in the field of music performance, researching contemporary Spanish guitar repertoire in Madrid, Spain. He was awarded the Program for Cultural Cooperation Fellowship, promoting cultural understanding between Spain and the United States and the Kate Neal Kinley Fellowship, for research and performance of contemporary Spanish music in Madrid. Levin has commissioned over 30 solo guitar works from four generations of Spanish composers and has a four-disc recording contract with Naxos to document all of these works.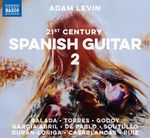 Second recording in a planned four-disc Naxos series featuring world premiere recordings of solo works by Spanish composers commissioned by Adam Levin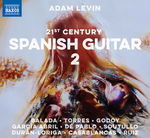 This is the second of a four volume series presenting new Spanish works for solo guitar commissioned as part of the acclaimed guitarist, Adam Levin's residency in Spain. Amongst a wealth of exciting new names there are also some established composers such as Balada,
whose imaginative re-invention of Granados's Danzas españolas opens the recording, García Abril and Casablancas, already made familiar through an extensive catalogue of recordings on Naxos. Volume 1 [Naxos 8.573024] was hailed by Scene Magazine as "one of the essential collections of solo instrumental performance released in the past 50 years."
This is the second in an already indispensable series of recordings by Adam Levin. In a series of what will be four discs, Levin is (almost single-handedly) filling the compositional space left largely vacant since the death of Rodrigo. It is already an astonishing achievement... Levin is an utterly brilliant player, whose ability to assimilate such a wealth of music is inspiring.
— Soundboard